Regulated and professional trading of cryptocurrencies
Buy and sell cryptocurrencies with minimum fees securely for individuals, companies and institutions.
Headquartered and regulated in Europe
Tax report included
Deposits by credit card and bank transfer
Support in 7 languages, with telephone availability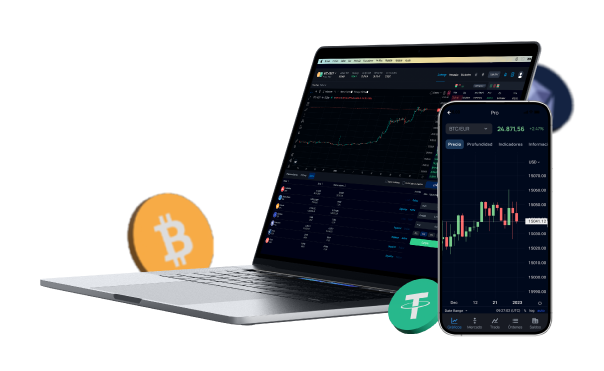 +1 Million
Registered users
Real-time markets
Prices
#
Par
Price
Change 24 H
Maximum 24 H
Minimum 24 H
Volume 24 H
Action
1

DOGE/USDT

Dogecoin / Tether

0,097 USDT
-2,62%
0,11 USDT
0,092 USDT

3.059.229.856,00 DOGE

305.343.982,26 USDT

2

0,93 EUR
-0,065%
0,93 EUR
0,93 EUR

62.698.136,54 USDT

58.274.843,14 EUR

3

39.120,00 EUR
-3,89%
40.940,00 EUR
37.521,80 EUR

804,67 BTC

31.959.707,55 EUR

4

63,40 EUR
-5,34%
69,66 EUR
61,11 EUR

189.920,30 SOL

12.584.627,31 EUR

5

BTC/USDT

Bitcoin / Tether

42.102,80 USDT
-3,83%
44.016,50 USDT
40.420,00 USDT

295,62 BTC

12.528.193,38 USDT
Precision and security in your operations
Safe and robust
Security and guarantee
Your funds are cold-stored and secured with €150M with Ledger Enterprise.
High Liquidity
Create your orders in the markets with the highest volume without worrying about liquidity.
Real-time, high-frequency trading platform
About Bit2Me PRO
Bit2Me offers a robust infrastructure with an intuitive interface, the ability to place thousands of orders in real time and high liquidity.
Advanced visualisation and analysis tools
Full interface
7 types of charts with price history
Candles with 7 temporalities
Customisable graphic design and size
Filters by buying and selling history and time bands
Executes orders accurately
Advanced orders
Don't miss any opportunity and protect yourself from risk with safety nets through the available orders:
Institutional technology
Our infrastructure
250 ms on average
Low latency trade execution through a robust and documented API
1 Million TPS
A trading engine and technology tailored to execute large numbers of trades per second
Institutional grade security
We work under a multi-layered perimeter security model certifying our processes
High availability
Scale-out infrastructure in the cloud within Google's servers
Deep liquidity
Trade large quantities at low fee cost and with little or no order book shifting
User-friendly APIs
Use our REST API and WebSockets to get direct access to markets and their real-time data.
Sleep easy with Bit2Me
Why Bit2Me?
Your money is protected at Bit2Me
Protecting your money through multiple layers of security
Regulated in the European Union
First crypto exchange to be registered with the Bank of Spain
Telephone support in English
We help you, with multi-channel support in your language
Free tax report included
Your tax return reports in one click
Highly recognised certifications
We have highly recognised certifications such as ISO27001, among others
Independent third party audits
Financial audit by BDO. Best Compliance Award
Free education included
Educational content available to make informed decisions
Backed by Telefónica and Investcorp
Bit2Me has listed companies as partners
Frequently Asked Questions
Do you have doubts?
Bit2Me Pro is the first high-frequency cryptocurrency trading platform developed by a Spanish exchange.
It is a high-profile digital tool aimed at investors, institutions and traders interested in trades that provide high liquidity and have a minimum spread on all trades.
Our Pro platform has the capacity to manage millions of euros 24 hours a day, 365 days a year and with the peace of mind of knowing that you are working within a stable, high-frequency and highly liquid platform.
This service is aimed at advanced users, as it can be somewhat complex for users who are just starting out in the crypto world.
Bit2Me Pro allows you to learn by doing, using advanced tools that allow you to learn about the markets, start trading and create a strategy that suits your financial goals.
Bit2Me Pro is integrated into our 360 suite of crypto services, so you can log in with your Bit2Me account, quickly and easily, without wasting time creating new accounts.
If you already have a Bit2Me account you can log in with your credentials and transfer funds from your Wallet to your Wallet Pro in just a few clicks.
And how do you create your portfolios in Bit2Me Pro? Every time you select a trade pair, the tool will automatically create a wallet for it.
For example, if you choose the pair ALGO/EUR you will see a message at the bottom of the tool telling you that the new portfolio has been created.
Once created, you will be able to see all your wallets from the "Balance" section , which you will find in the top toolbar. Within this section you will find all your wallets, with the amount of available balance and blocked balance, as well as the option to "Deposit" (which allows you to deposit tokens from your Bit2Me Wallet, which is different from the Pro) and "Withdraw".
From the "My trades" section you will have access to all the trades you have made in the tool, as well as the possibility of applying filters to organise and manage all the movements as you wish.
On our professional trading platform you can perform the following operations:
Order MARKET:
It is executed at the best price available in the order book.
It is executed immediately.
The exact price is not guaranteed.
Order LIMIT:
It allows you to buy and sell at a fixed price that you determine. Depending on the price, it is possible to obtain better prices.
It is executed when the price reaches the set price.
The execution of the order is not guaranteed.
Order STOP LIMIT:
The user has to set 2 prices: STOP PRICE and LIMIT PRICE.
If the market price STOPs, the order becomes LIMIT.
Please note that all orders expire after 30 days (they are automatically cancelled), as well as partially filled orders, which expire in the same period of time.
Bit2Me Pro implements new cryptocurrencies on a regular basis to give users more options to optimise their strategies.
Currently, you can programme your operations with the following pairs:
AAVE/EUR, ADA/EUR, ALGO/EUR, APT/EUR, ATOM/EUR, AVAX/EUR, B2M/USDT, BTC/EUR, BTC/USDT, DAO/USDT, DOGE/EUR, DOT/EUR, ETH/EUR, ETH/USDT, EURT/USDT, FLOW/EUR, GLMR/EUR, GPT/USDT, KAVA/EUR, KIN/EUR, KSM/EUR, LTC/EUR, MATIC/EUR, MKR/EUR, MOVR/EUR, NEAR/EUR, PRIMAL/USDT, SOL/EUR, TON/USDT, TRX/EUR, UNI/EUR, USDC/EUR, USDT/EUR, XAUT/USDT, XRP/EUR, YFI/EUR
Bit2Me Wallet is a service through which a user can buy, sell and exchange coins without any previous experience in the world of cryptocurrencies.
Bit2Me PRO is an online tool intended for professional users through which they can place different types of orders: LIMIT, MARKET and STOP LIMIT.
Our fees are tailored to your needs at a very competitive price, you can consult our fees always up to date on our support page.