The new system of levels and benefits for Bit2Me users and B2M holders.
Complete missions, receive points and get more benefits.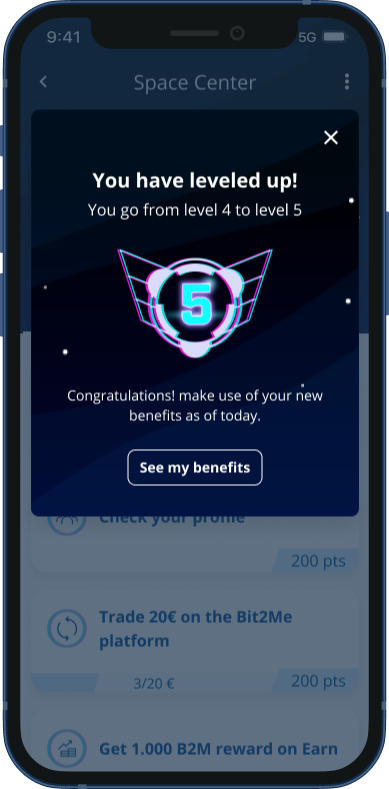 Exclusive benefits
Upgrading allows you to enjoy more benefits within the Bit2Me suite.
Level
Level
Probability of access
10%
Level
Probability of access
30%
Level
Probability of access
50%
Level
Probability of access
70%
Level
Probability of access
90%
Level
Probability of access
95%
Level
Probability of access
100%
More benefits for B2M holders
Missions for B2M
Discover the new utilities and benefits that this new system brings to B2M holders with their own token missions.
Leveling up with B2M is now 100 times easier
Up to ~13% APY with B2M on Earn
Up to 9% cashback using B2M on Card
Frequently Asked Questions
We help you
Space center is the new Bit2Me benefits system, created to offer more advantages for users and B2M holders. In addition, you will be able to level up more easily.
A place where you can check the available missions, the amount of points and level you have, as well as the benefits you can enjoy in each level.
Missions are small actions that you can complete within the Bit2Me app to earn points.
You can consult the details of each mission and complete it by clicking on it.
When you complete a mission, it will go to the completed missions section in the top menu. Remember that some missions have a validity period of 12 months.
The user levels will allow you to obtain benefits in the different products of the Bit2Me product suite.
You can level up when you complete the different missions available and get points.
The points can be consulted from the main Space Center screen, under the level badge.
You can check all the benefits for each level from the "Benefits" tab of Space Center.
With Space Center you will get more benefits in all current and future Bit2Me services.
When you enter Space Center for the first time, you may have already earned points and completed missions. This happens by performing missions such as buying B2M, verifying your account or verifying your card.
Remember that you can check all your completed missions and how to complete new ones from the top menu of Space Center.