Referral Program
Earn commissions for each person who uses Bit2Me thanks to you
Earn up to $1000 for every person you invite to use Bit2Me!
Recommend and benefit
You've read well. Each person you invite and join the Bitcoin revolution, will receive €5 if their first purchase is €100 or more. You will earn a commission for your operations.
create your own cryptofamily! Earn from your 'children' (direct) referrals, and from the referrals of your referrals ('grandchildren' and 'great-grandchildren'). The bigger your family, the more you earn!
All the profits we distribute come from Bit2Me's commissions. We've already distributed hundreds of thousands of euros in benefits to our community.
Start now
The best referral program
Advantages
Up to 1000€ per referral
For each direct or indirect referral we give you up to 1000 €. In addition they will receive 5 € on their first purchase.
Create your bitcoin family
expand your family! Get benefits for your direct referrals (children), but also for your indirect referrals (grandchildren and great-grandchildren).
Get your badges
Each operation made by your referrals adds points to increase your rank. 5 ranks; the higher the rank, the better the commissions.
A program without limits
There are no limits to creating your Bitcoin family. Grow your family and unlock better benefits.
5 on the first purchase
Your referrals, after registering with your code, will get 5 € free on their first purchase of over 100 € or more.
Detailed analysis
Create as many referral codes as you wish. Analyze the performance of each link separately.
Find out more about the benefits and scores. Press Here .
Earn money by expanding the revolution
Create your crypto family
Invite your friends to use cryptocurrencies while earning money for the people who come to Bit2Me thanks to you directly or indirectly. Up to 3 degrees of descent in your cryptofamily. We have created one of the best referral programs in the crypto world because our purpose is to bring cryptocurrencies and their values to as many people as possible. With your help we can achieve this and we will compensate you for it.
We have the best referral program in the world
Comparison
Comparison with other platforms. Actual data obtained in March 2020.

Only one payment per referral
1 referral level
8 when you buy 100 euros or more
You don't gain from volume
No phone support for customers
Low purchase/sale limits
Very strict registration

Spain
The best option
You earn referral commissions indefinitely
Retreats from day one
3 referral levels
More referrals, more profit percentage
Earnings by volume of the operation
Your referral gets 5€ on their first purchase
Finland
The referral expires after 3 months
Payments after 1 year
1 referral level
0.2% of the volume of the operation
Constant risk of theft
Extremely high prices
No phone support
It's really simple
How does it work?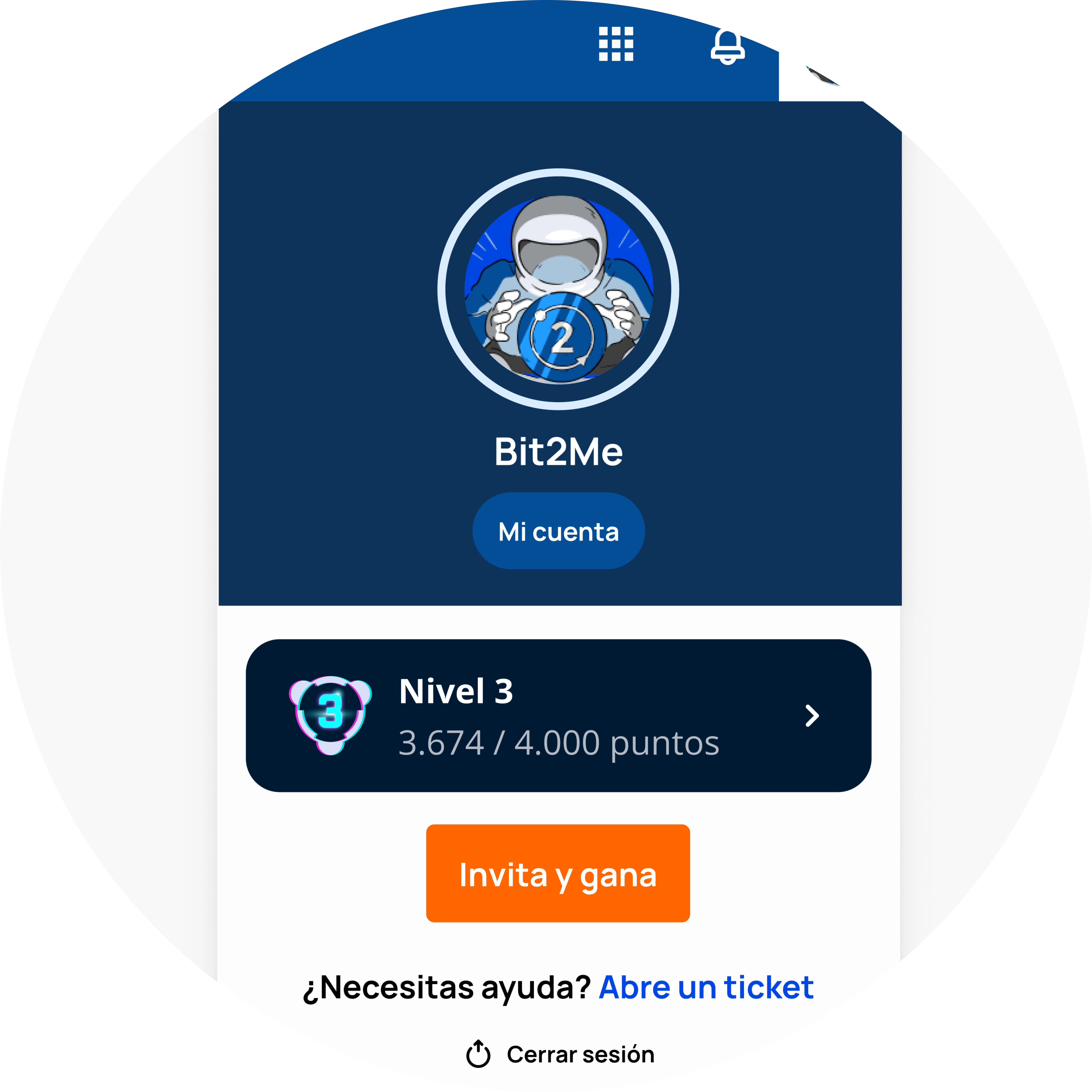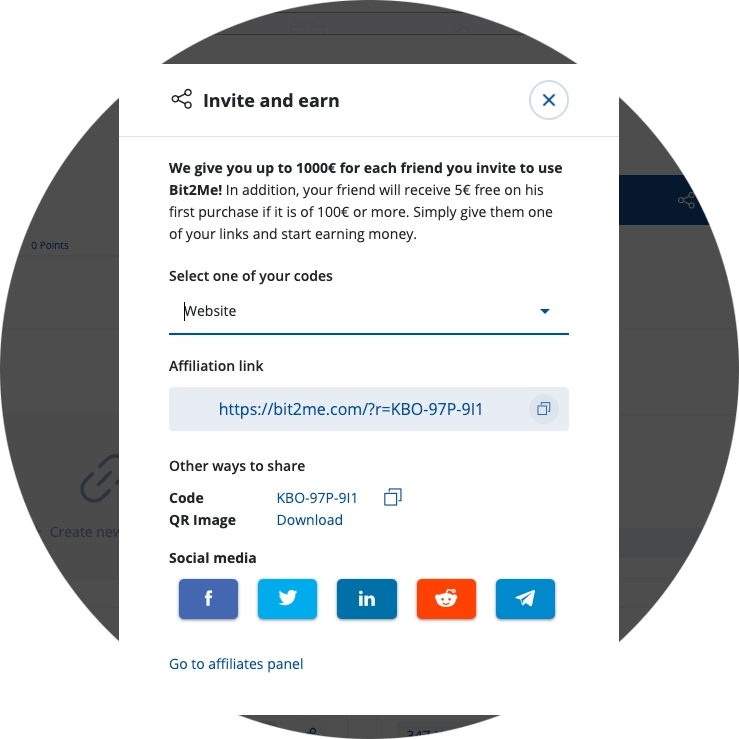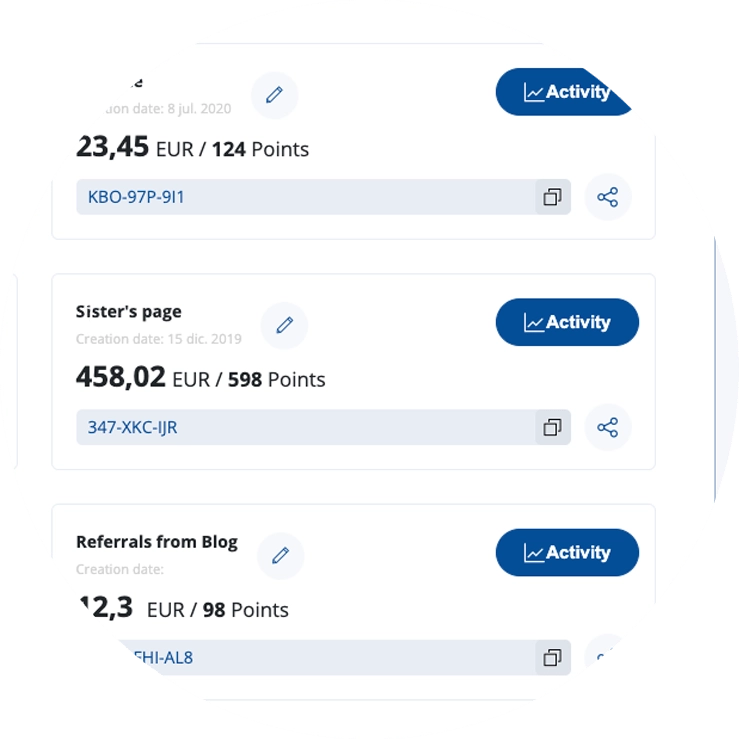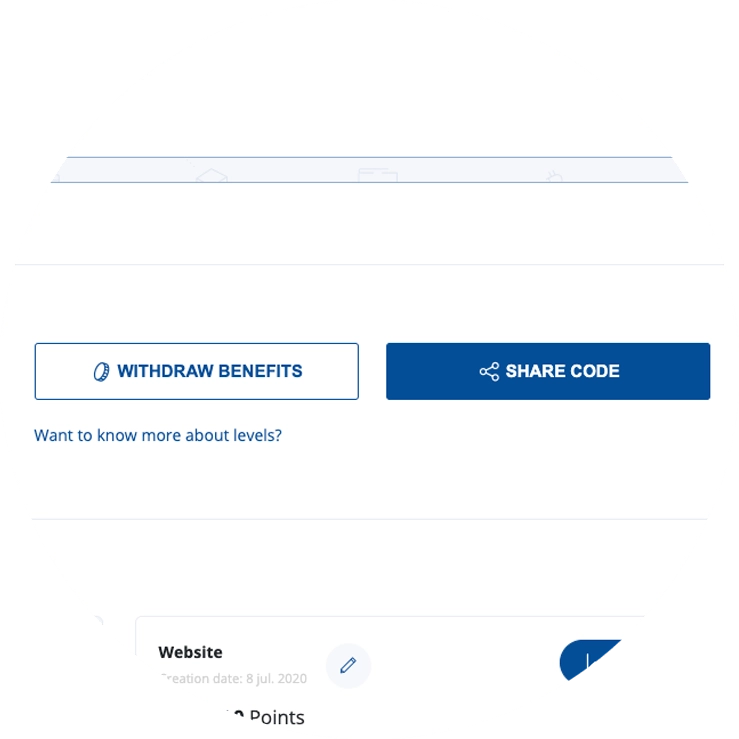 Access your user account, generate a new code and copy it in link, QR or code format. You can create as many codes as you want to analyze profitability separately.
Send the link to your friends through your social networks, web, blog or any kind of messaging app. Everyone who creates a Bit2Me account through the link will be linked to you. Every friend who uses your link, and their first purchase is €100 or more, will automatically receive €5 free.
At any time you can see both the accumulated benefits and the points earned. You have detailed statistics with advanced filters, as well as a history of all actions taken.
With only 30 euros accumulated, you can withdraw your profits to your Bit2Me euro wallet. You can use them in the way you think best: buy cryptocurrency, send to a friend, buy services, withdraw to your bank, etc.
Start now
Receive your benefits as you wish!
Flexible payments
Transfer
SEPA - International
Withdraw your benefits to your bank account. Payments are made in Euro to bank accounts of any currency.
Crypto-Currencies
Bitcoin
Withdraw your benefits at Bitcoin. Get paid at any Bitcoin address in the world in just a few minutes.
Other services
Bit2Me Suite
Send money to friends, buy services, trade. Bit2Me keeps creating services. Use your profits as you wish.
You will earn benefits for users who 1) arrive at the site through your link, 2) register and 3) carry out commercial operations.
We have what others don't offer
Get to know the program
Rank up and earn more
The people most involved earn more because of the ranks. The more people who come from you, the more points you earn to move up the ranks and increase your commission percentage to 62.5%!
Cookie valid for 30 days
The cookie is valid for 30 days, unlike other systems. If a person comes to Bit2Me through one of your links and registers within 30 days by another means, he or she will be linked to your profile.
Earn with every buy, sell and exchange
The referral system rewards you for all transactions made by your crypto-family: purchases, sales and exchanges (all implemented in Bit2Me Wallet).
Direct support 24/7
We help you earn more. We are at your disposal for questions, ideas or proposals through: telephone, email or chat. Support available in multiple languages.
Join the best
Bit2Me Warranty
Trajectory of trust
Since 2014 we are pioneers in Blockchain technology and cryptocurrencies. We protect our customers and their privacy.
We work for you
More than 50 experts in different areas. We have been recognized by: VISA Fintech Americas, Guests of Honor by the United Kingdom or the European Commission, ..
Media appearances
You can find us on television, radio and in the press: NBC, TVE, Cuatro, Cadena SER, Intereconomía, Expansión, El Mundo, El País, etc.