B2M Token (B2M)
B2M Token (
B2M
)
Start: 06/09/2021
Close: 13/09/2021
Price 0.015 €
-25% Phase 3
Start: 13/09/2021
Close: 21/09/2021
Start: 21/09/2021
Close: 30/09/2021
Information
B2M is the utility token created by Bit2Me to drive the growth and development of its suite of cryptocurrency solutions and offer unique bonuses and benefits to users and holders of the Bit2Me Suite ecosystem.
The B2M was launched in November 2021 after a successful ICO phase in which it managed to raise $20 million in less than three minutes that the three public sale stages lasted. Currently, the token can be purchased on Bittrex, Uniswap, Pancake Swap, MEXC and Bit2Me.
B2M holders have exclusive benefits such as early stage participation in new projects powered from Bit2Me Launchpad, special staking rewards through Bit2Me Earn, bonuses of up to 90% when trading within the platform and other special features on new Bit2Me products and services.
With the token now listed and fully operational, to purchase it just sign up for Bit2Me Suite, complete the verification steps and log in to the Bit2Me Wallet to purchase the B2M tokens.
Supply, distribution and management of tokens
Token data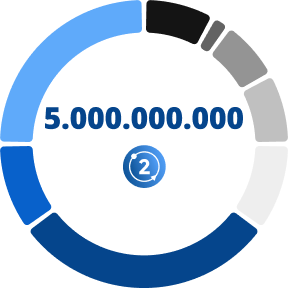 Distribution
Public Offer: 25%

Team: 10%

Reservation: 30%

Private Offer: 10%

Advisors: 8%

R&D: 7%

Airdrops: 2%

Partners: 8%
Token information
Name: B2M Token
Symbol: B2M
Blockchain: Ethereum (ERC20)
Max. supplies: 5,000 M
B2M token vesting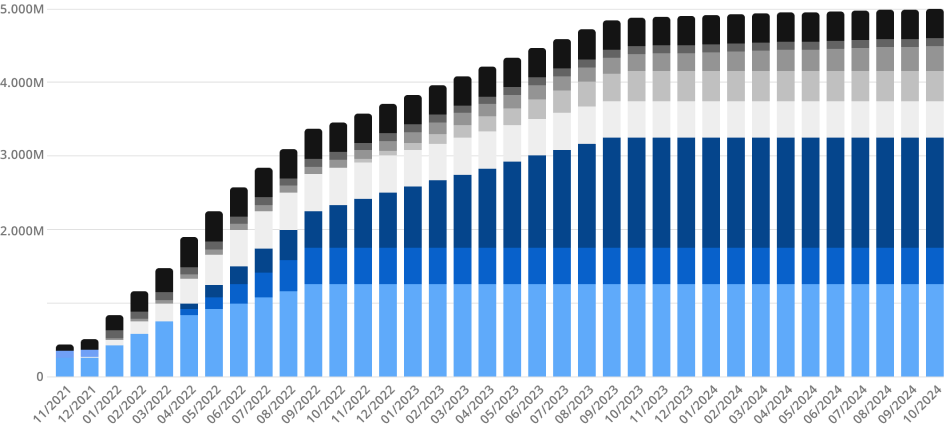 Public Offer

Team

Reservation

Private Offer

Advisors

R&D

Airdrops

Partners
Purchase options
Your choice
Option 1 (Phase 1)
Option 2 (Phase 2)
Option 3 (Phase 3)
Assets
B2M Token (ETH)
B2M Token (ETH)
B2M Token (ETH)
Token Price
0,01€
0,015€
0,02€
Start date
06 September 2021
13 September 2021
21 September 2021
Number of tokens to be issued
500.000.000
500.000.000
250.000.000
Purchase limit

Min 1.000,00€

-

Max 300.000,00€

Min 500,00€

-

Max 200.000,00€

Min 100,00€

-

Max 100.000,00€

Percentage of total issuance
10.00%
10.00%
5.00%
Vesting

6 months from the end of the lock-up, B2M will be released at a rate of 1/6 per month for 6 months.

3 months from the end of the lock-up, B2M will be released at a rate of 1/3 per month for 3 months.

1 month from the end of the lock-up, B2M will be released at a rate of 1/1 per month for 1 month.
Take advantage of the opportunity to participate in the most exclusive token launches
Three simple steps
01
Create your account
Register with Bit2Me and verify your account to access Bit2Me Launchpad and participate in this and other tokens selected by the Bit2Me team.
02
Participate in the presale
Select the number of tokens you want to reserve in each phase quickly and easily.
The more B2M tokens you have, the better your position will be!
03
Prepare for departure
On the day of departure, make sure you have in your wallet the amount of euros you want to participate with, just a few steps to be in!