B3X Token (B3X)
B3X Token (
B3X
)
Price 0.015 €
-25% Phase 2
Start: 01/03/2022
Close: 07/03/2022
Start: 31/03/2022
Close: 31/03/2022
Information
B3X is the utility token of the neobank Bnext which objective is to support the expansion and growth of the company to achieve the goal of leading the fintech sector in Spanish-speaking countries.
The Bnext utility token is developed following the ASA standard of tokens issued on the Algorand blockchain. By so doing, B3X takes advantage of the functionalities of an efficient network, with fast, low-cost transactions and clean carbon emissions.
During the IEO phase, the company's tokens were valued between €0.015-0.02 and 25% of the total B3X Token supply of 3.5 billion tokens was offered through the Bit2Me Launchpad. At the beginning of November 2021, Bnext offered 10% of B3X to private investors, raising 5 million euros. In 2019, it closed the largest Series A of a fintech in Spain, raising 22.5 million euros and reaching more than 300,000 active accounts. It also raised €3 million in a crowdfunding campaign for its customer community, which broke the previous record by raising €1M in 1 hour.
Name: bnext
Foundation: Feb. 2017
Market: International
Sector: Fintech
Location: Madrid and Barcelona
Advantages of the token
Governance
Participate by voting to decide what the next steps of the Bnext roadmap will be like and what the new features of the platform will be, it helps to generate value for all Bnext clients.
Preferential access
Be among the first to try new products that are launched by Bnext. The more tokens you have, the more chances you have to get preferred access.
Protect your payments
Get an extended guarantee when you buy with your Bnext card and always keep all your payments safe.
International transfers
Get discounts of up to 90% on the margin obtained by Bnext in the international transfer system on blockchain.
Cashback
Increase the cashback you receive for paying with your Bnext card by up to x2.
Cashback on exclusive brands
Get extra rebates on some of the exclusive brands you have available in the Rewards section of Bnext.
Marketplace
Use your B3X tokens to buy products from Bnext partners in their marketplace and obtain different benefits and discounts.
Referrals
Earn B3X tokens by inviting your friends to use Bnext.
Exclusive card
Coming soon, you will be able to receive an exclusive Bnext metal card just for buying and holding B3X tokens.
Payments with B3X
In the future, if you use your B3X tokens to pay for Bnext products or services, you will get exclusive discounts and benefits.
Round ups
Coming soon, if you activate the automatic rounding up of B3X, you will be able to save on all your purchases with B3X.
Bnext DeFi
As a holder of the B3X token, you will get exclusive access to Bnext's new DeFi products, where you can get the most out of your cryptos (Coming Soon).
Bnext Earn
Do you want to get the most out of your B3X tokens? In the future, you will be able to put your B3X tokens into Earn and receive rewards without having to do anything.
Supply, distribution and management of tokens
Token data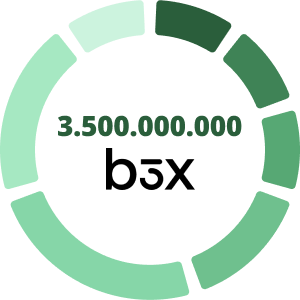 Distribution
Reservation: 10%

Treasury stock: 10%

Advisors: 10%

Private Offer: 15%

Public Offer: 25%

I&D: 20%

Team: 10%
Token information
Name: B3X Token
Symbol: B3X
Blockchain: Algorand (ASA)
Max. supplies: 3,500 M
bnext token vesting

Reservation

Treasury stock

Advisors

Private Offer

Public Offer

I&D

Team
Purchase options
Your choice
Option 1 (Phase 1)
Option 2 (Phase 2)
Assets
B3X Token (ALGO)
B3X Token (ALGO)
Token Price
0.015 €
0.02 €
Start date
01 March 2022
31 March 2022
Number of tokens to be issued
504,000,000
15,099,787
Purchase limit

Min 1,000€

-

Max 300,000€

Percentage of total issuance
14.40%
0.43%
Vesting

6 months from the end of the lock-up, B3X will be released at a rate of 1/6 per month for 6 months.

6 months from the end of the lock-up, B3X will be released at a rate of 1/6 per month for 6 months.
Take advantage of the opportunity to participate in the most exclusive token launches
Three simple steps
01
Create your account
Register with Bit2Me and verify your account to access Bit2Me Launchpad and participate in this and other tokens selected by the Bit2Me team.
02
Participate in the presale
Select the number of tokens you want to reserve in each phase quickly and easily.
The more B2M tokens you have, the better your position will be!
03
Prepare for departure
On the day of departure, make sure you have in your wallet the amount of euros you want to participate with, just a few steps to be in!